Brewing coffee at home is a great way to enjoy a fresh and delicious cup of coffee without having to leave your house. There are many different coffee brewing methods to choose from, each with its own unique flavor profile and brewing process. Whether you prefer a bold and rich cup of coffee or a smooth and mellow one, there is a brewing method that will suit your taste.
Some popular brewing methods include drip coffee, French press, pour over, Aeropress, espresso, Moka pot, and cold brew. Each method requires different equipment and techniques, but all share the common goal of extracting the flavors and aromas from the coffee beans.
By learning how to brew coffee at home, you can save money, experiment with different flavors and brewing techniques, and enjoy a customized cup of coffee that is tailored to your preferences. With practice and experimentation, you can become a skilled home barista and enjoy a delicious cup of coffee every day.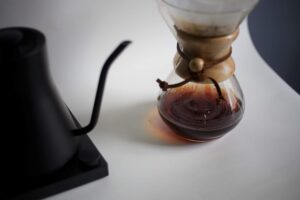 Chemex brewing is a pour-over method that utilizes a special hourglass-shaped glass coffee maker. It is known for its clean and crisp flavor profile. Here's
Read More »